Description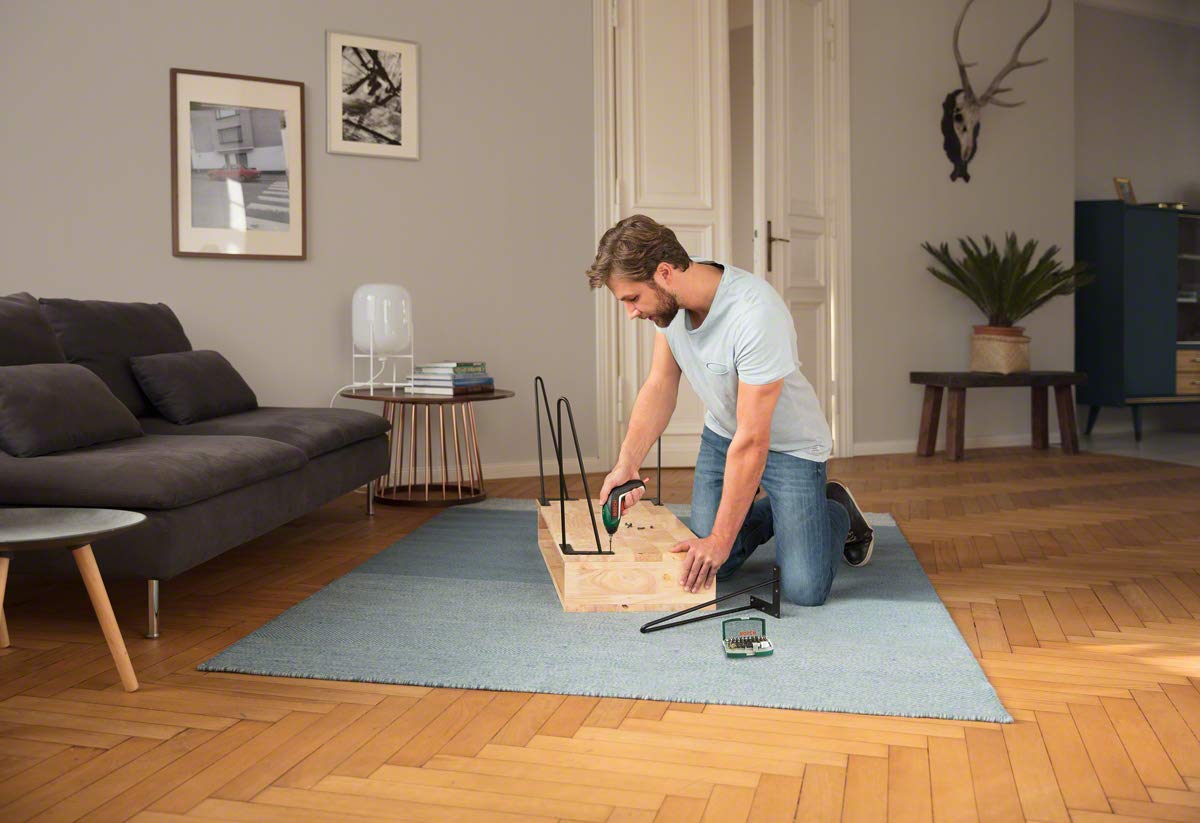 Find the right screwdriver bit quickly with the colour-coded Bosch screwdriver bits. 31 screwdriver bits in 25 mm length for all standard screw types and sizes. Colour-coded bits allow you to maintain an overview and find the right bit quickly. Practically housed in a handy box with practical belt clip. Suitable for all power tool brands. Quick-change universal holder with the locking mechanism to ensure a secure hold of the bits and fast bit changes. Reliable screw holds in the bit thanks to magnets integrated with the adapter. Practically housed in a handy box with practical belt clip. This set includes 25 mm length 4 x phillips bits 1/2/2/3, 4 x pozidriv bits 1/2/2/3, 4 x slotted bits 3/4/5/6, 4 x hexagon bits 3/4/5/6, 8 x torx bits 10/15/20/20/25/27/30/40 and 7 x security torx head bits 10/15/20/25/27/30/40 and 1 x universal holder.
A must-have set for any DIYer: This set is ideal for every DIYer, no matter what the job or application. It comes with a clear, colour-coded bit layout that allows the user to quickly identify each screwdriver bit. Designed to be quick, effective and easy to use!
Comes complete with everything you need to get the screwdriving job done: This handy 32-piece screwdriver bit set is ideal for all screwdriving and fastening work. This Bosch set offers the right screwdriver bit for every application and every conventional screw including: Phillips (Ph), Pozidriv (Pz), Slotted (S), Internal Hexagon (IS), Torx (T) and Security Torx (Th) screw heads.
Screwdriving and bit change system: The magnetic, quality quick-change adaptor with auto-lock is designed to enable the user to change between screwdriver bits effortlessly. It comes in a robust case with a belt clip on the reverse, making it a must-have set in any tool kit.
FEATURES
Quick-change universal holder with locking mechanism

Reliable screw holds in the bit thanks to magnets integrated in the adapter

Colour-coded bits allow you to maintain an overview and find the right bit quickly

Practically housed in a handy box with practical belt clip

Suitable for all power tool brands
SPECIFICATIONS
Part Number: 2607017063

Item Weight: 249 g

Product Dimensions: 13 x 6.7 x 4.5 cm

Origin: China

Item Package Quantity: 1

Number Of Pieces: 1

Measurement System: Metric

Included Components: Screwdriver bit set 32 pcs

Batteries Included: No

Batteries Required: No