Description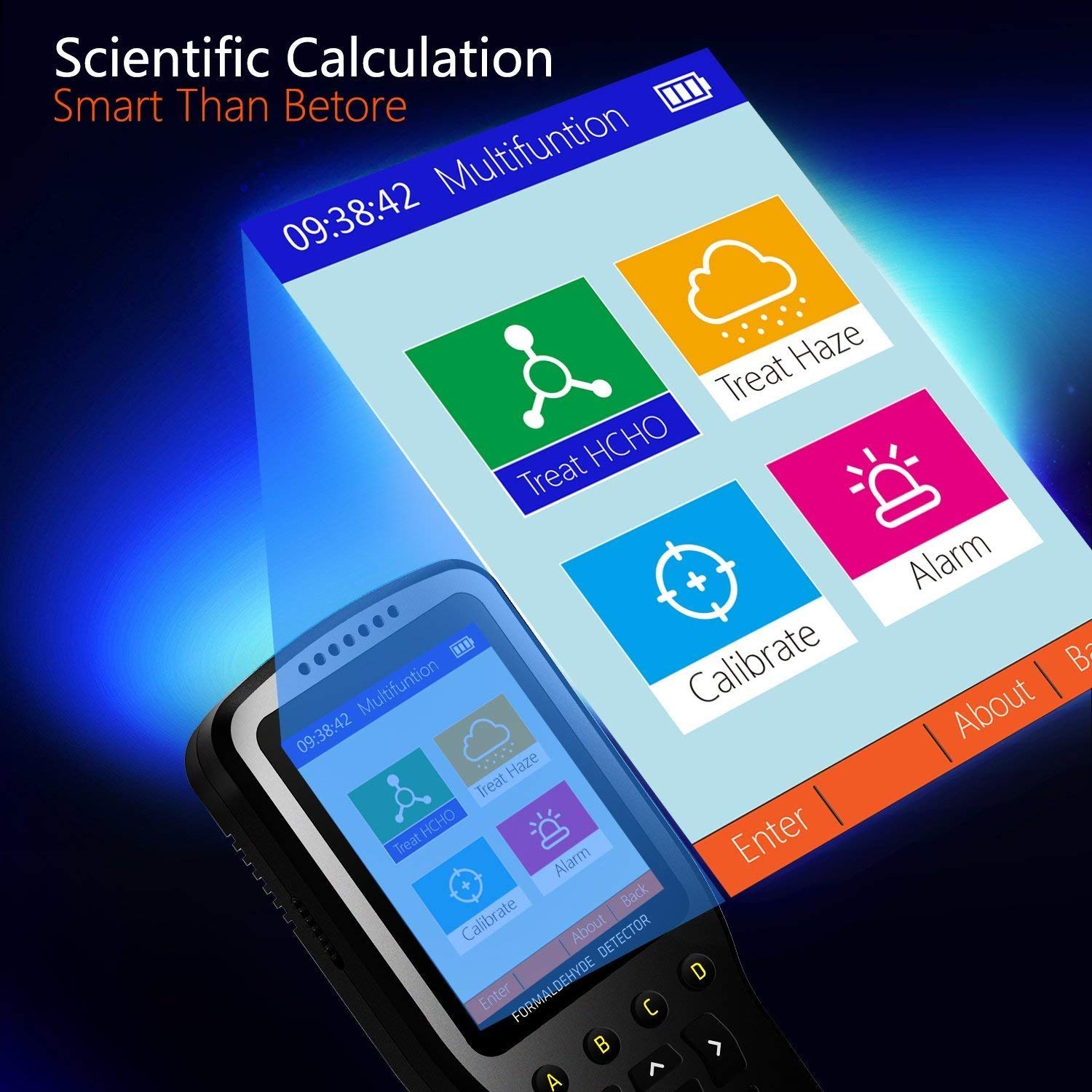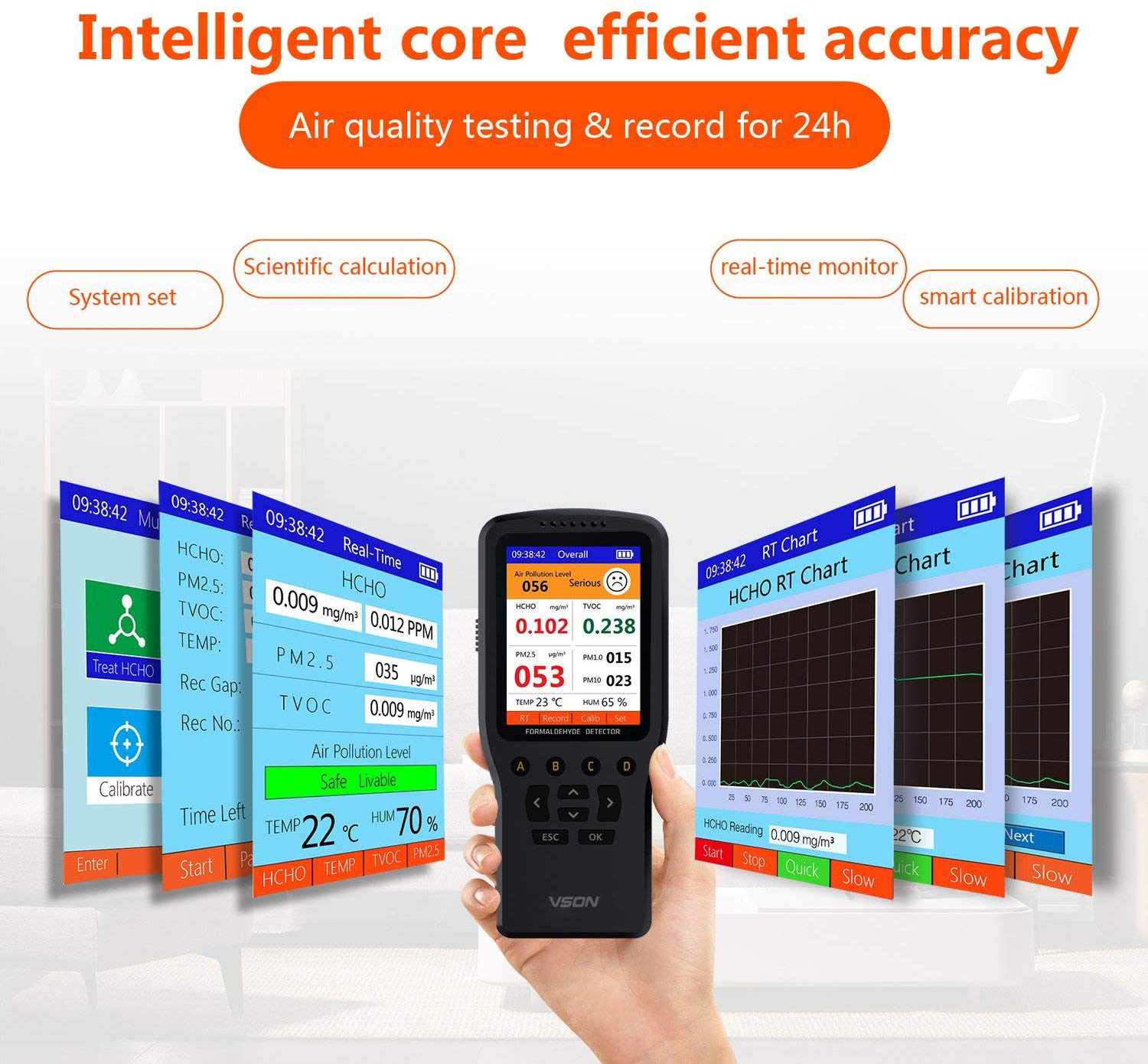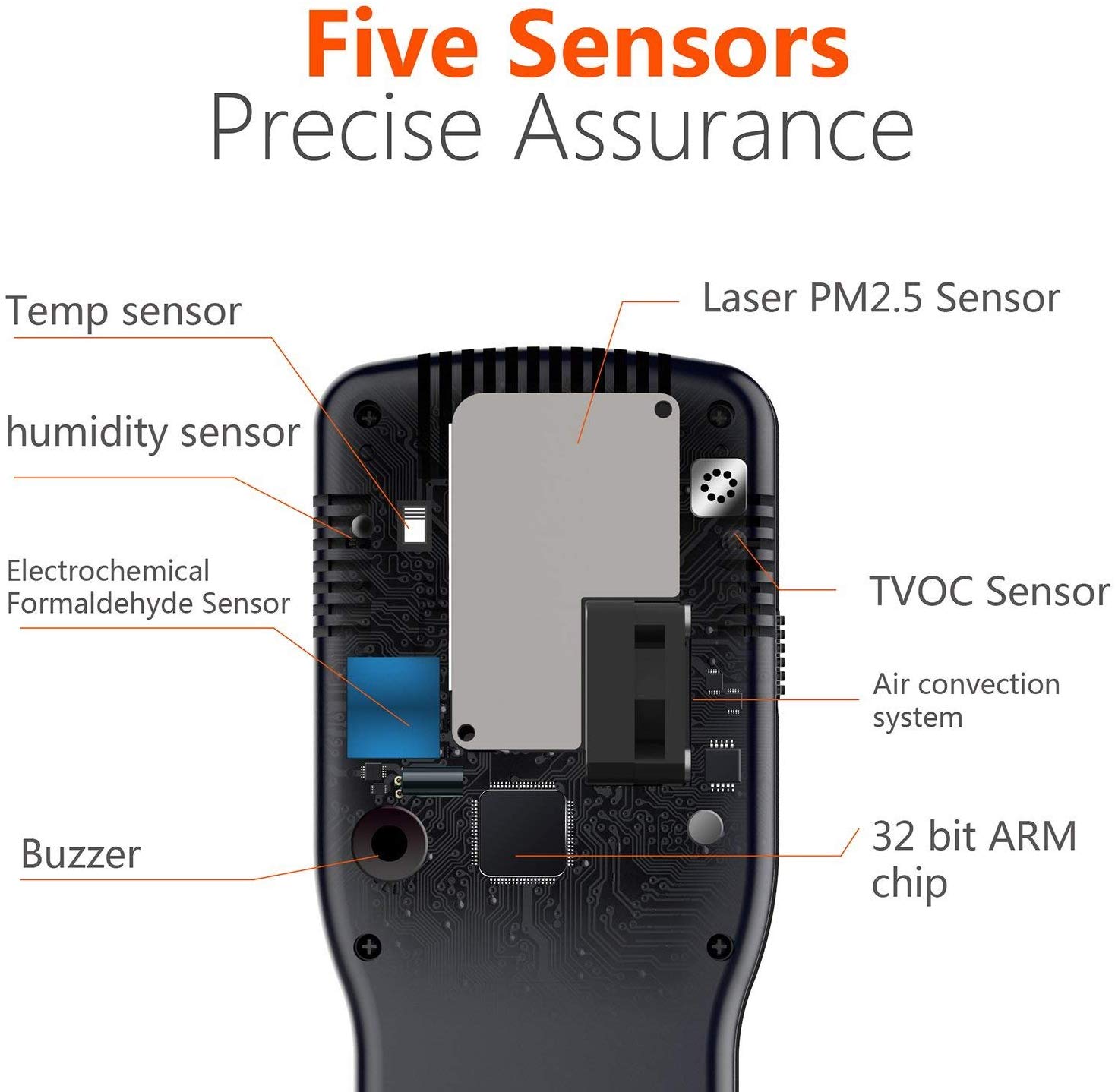 With the increasingly serious air pollution, we must find all kinds of tools to help us identify the harmful substances in the air, and the VSON air quality monitor is an effective recommendation.
VSON air quality detector is a smarter detector that monitors all day, from formaldehyde, benzene to air pollution index, temperature and humidity. It has eight characteristics, namely accurate detection of formaldehyde, accurate detection of TVOC, air convection system, real-time temperature detection, real-time humidity detection, air quality curve recording analysis, 24-hour air monitoring and memory calibration. With patented active air docking technology, the measurement is more sensitive and more accurate.
FEATURES
Upgraded 7 in 1 multifunctional air quality monitor. Keeping track of the air quality around you, professional detection of formaldehyde (HCHO), TVOC, pm2.5, PM1.0, PM10, temperature and humidity makes life safer and healthier.

Two operation system with two interfaces. Using ARM chips, it has separate sensors that measure air quality more quickly and accurately. Built-in alarm device, once the value exceeds the warning line, the detector will issue a sound and light alarm.

Come with charger and LCD HD color screen. The air quality monitor has built-in lithium battery, which can be directly charged through the attached charger and a full charge can be used for 4 hours. low-consumption LCD screen is clear and bright, and the data is displayed visually.

Portable and easy to operation. Warm up after starting, and then it enters the calibration mode. Leave it outside for about 10 minutes, then use. Can be handhold or placed on a flat surface for testing, body of monitors are designed to fit into the palm of our hand.

Checking anywhere air quality. Using it, air quality in your home, office or car can be measured at any time. This monitor is a safety guard, serving as a line of defense between you and the polluted air.
SPECIFICATIONS
Display Mode: LCD

Battery: Lithium Battery

Product Dimension: 5.9*2.7*1.5 inch

Product Weight: 170.5 g

HCHO Test Range: 0~1.999 mg/m3

TVOC Test Range: 0~9.999 mg/m3

PM1.0/PM2.5/PM10 Range: 0~999μg/ m3

Temperature Test Range: 0~50℃

Humidity Test Range: 20~90%RH

Item Weight: 168 g

Product Dimensions: 15 x 6.8 x 3.7 cm

Batteries: 1 Lithium ion batteries required. (included)

Color: Black

Batteries Included: Yes

Batteries Required: Yes
PACKAGE INCLUDES
1 x Air Quality Monitor

1 x English User Manual

1 x USB Cable
NOTES
Suggest charging time is 4 hours. When LCD screen displays low battery prompt. In order to normal use, please charge it in time.

Can charge the detector by connecting the computer with the usb cable, but the it cannot transfer files with the computer.

Detection of formaldehyde (HCHO) and TVOC is only effective indoors.

If the test result is found to be inaccurate, you can take the detector to a place where the outdoor air is fresh for calibration, then take it indoors and re-test.

Do not disassemble, impact, or put it into fire. If there is severe bulging, please do NOT continue to use. Do not put it in high-temperature environment.

*This VSON product is sold with a one-year, full money-back guarantee.