Description
The 635 Series places building and modern interior design right at your fingertips, with quick and easy setup, Highly Accurate Spirit Levelling, Tri-adjustable Positioning Feet, Pendulum Zero and an ultra-sensitive Movement Alarm - ensuring absolute precision every time.
The 635 Nano Metre laser module provides a clear, bright and stable indication beam, perfect for marking out, performing accurate frame/truss work, carpentry, shelving or any project where X marks the spot. The 635 Series offers the most advanced positioning system on the market giving you complete peace of mind whether you're a home handy man or professional tradesman.
With razor sharp accuracy, line your entire working area with floor-to-ceiling. Those of you that have used older type general laser levels can forget about blurry indistinct lines - the 635 has a >10m indoor working distance and is 360° rotatable with the clearest and brightest lines on the market.
Do you demand the best? Don't compromise on the accuracy of your project.
BUY NOW!
FEATURES
Out of Level Alarm Shut Down - Guaranteed Accuracy Every Time
635nm Ultra-Fine Bright Semiconductor Lasers
Able to project 4 Vertical Lines, 1 Horizontal Line, 1 Plumb Beam
360 Degrees Rotation and Adjustment
Rotational Locking Off Mechanism
5/8" Tripod Mounting Base Included
BONUS! Protective Glasses
BONUS! Premium Aluminium Carry Case
Professional Trade Instrument
Please make sure you have the right address and phone number on Ebay before purchase this item. If any of these details are missing, one of our team members will contact you before shipping out your order.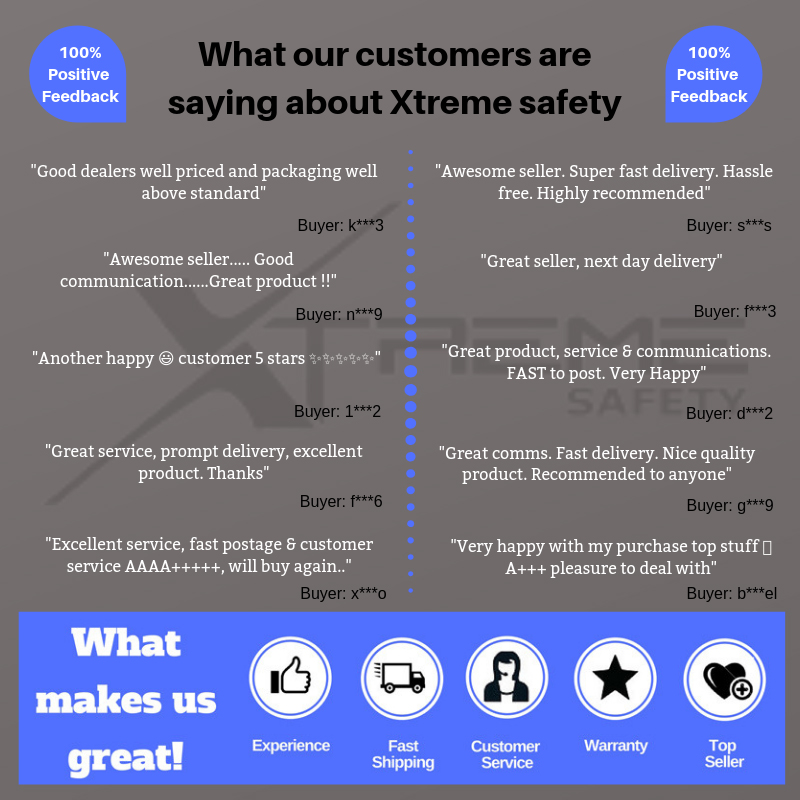 Xtreme Safety offers PayPal as our preferred and safest payment method. All major credit cards are accepted through secure payment processor Paypal.
If you would like to pay us via EFT, please choose it during check out.
Payment is required within 7 days of purchase. Items will not be reserved for your order until confirmed payment is received.
If there are any payment queries, please contact us before you commit to buy.
WE ONLY DELIVER WITHIN AUSTRALIA!
We operate as an Online retail business. Pick up WILL NOT be accepted, no exceptions.
To ensure best and fast delivery, please provide correct address and contact number.
Items are normally dispatched within 1 business days (Monday to Friday); however, please allow around 5 to 10 business days for the items to arrive.
Free shipping includes Standard Delivery in Australian only.
Standard delivery is made via companies chosen at our discretion depending of its coverage, reliability and affordability.
Express Postage is not available (Unless Indicated).
Orders will be delivered during business days. Deliveries are not made on weekends or public holidays.
Postage and handling are calculated per set of Item. Combined postage are not available and Items purchased at the same time may arrive in different parcel and time.
Change of mind after purchase is accepted within 60 days. Please contact us by Ebay message. The buyer is responsible for return postage.
Returns are accepted within 60 days of purchase date.
Provided goods are still in original condition, unused, and include original product tags and packaging, goods may be returned to us for a prompt refund (excluding the postage cost that we incurred in sending the goods to you) or exchanged for something else that may suit your needs better.
If for any reason you are unsatisfied with the item you receive, we will at our discretion exchange your product or refund the purchase price. All you need to do is contact us (sales@xtremesafety.com.au) within 7 calendar days of receiving your delivery or send us a Ebay message to discuss.
The buyer is responsible for return postage costs and assumes all cost and risk.
Before returning an item, please contact us with the reason for return.
Refunds will be returned via the same method in which payment was received.
Please note that the condition of the goods when they arrive back to us, is the condition on which the goods are assessed.
Lost or Damaged Goods: If you receive your items and find them damaged, or the shipping time estimate has elapsed and you still do not have your goods, please contact us (sales@xtremesafety.com.au) or send us an eBay message so we can resolve the issue for you.
EBay Fees and Shipping Charges are non-refundable.
Please feel free to contact us anytime!
Xtreme Safety
ABN: 76 209 378 399
Address: PO Box 2261 Taren Point NSW 2229
If for any reason you need to contact our team or need assistance with an online order, please feel free to contact us by the following methods:
Ebay Link: Click on the "ASK SELLER A QUESTION" link at the top right-hand side of the listing page
Telephone: Please call us on (02) 8091 2604
Important Information:
You should expect a response to your enquirie within 48 hours. We will respond as quickly as possible to answer ANY and ALL questions you may have.
If you have any question regarding our products, please ask us before buying.
If you don?t agree with the terms and conditions, please do not buy.
Thank you for looking at our Products, and supporting a Local Australian Business.
Welcome to Xtreme Safety - Where you will find a full range of personal protective equipment ready to be delivered at your door.
Xtreme Safety is a dynamically stable-growing company committed to help people and businesses to improve the health and safety in all work environments. We intend to assist our customers to build enduring safety culture with a range of high quality products at competitive prices, helping your business to make your workplace, yourself and your workers safer. Personal protective equipment range of products includes: gloves, safety glasses, ear plugs, coveralls, masks, etc.
Our aim is to make 100% of our customers happy with a high standard customer service and great quality products.
Why choose Xtreme Satefy as your Safety gear supplier?
Reliable, professional company;
Fast delivery;
Great value for money;
High quality products.
© 2017 Xtreme Safety. All rights reserved.
Design By: Kostricani Technology