Description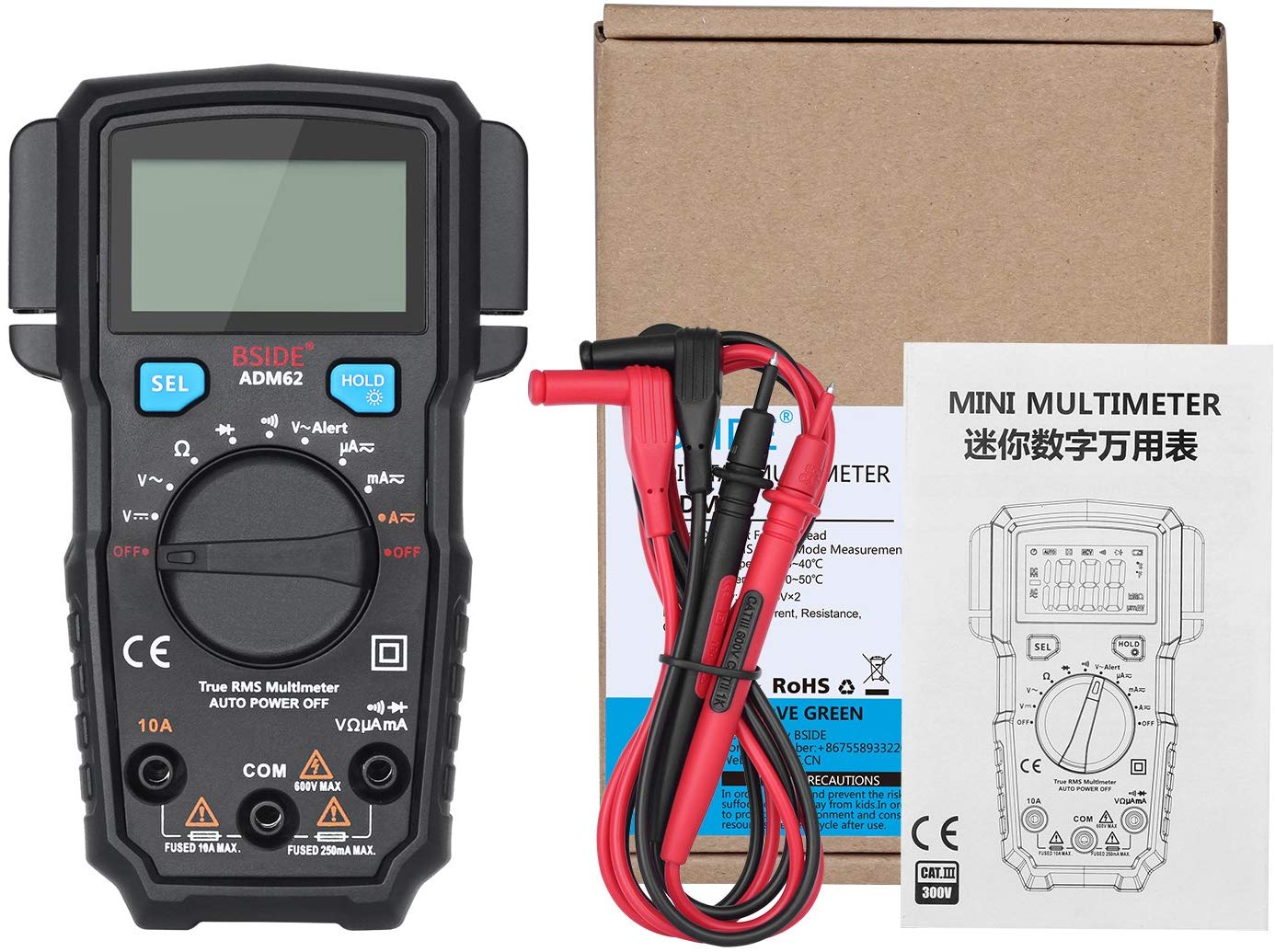 WHAT MAKES THE ADM62 SO EFFICIENT?
Dual side slot design, the test lead can be fixed in the slot for single-hand measurement, or hidden in the slot to prevent from being hurt by the tip

Built-in rotatable kickstand makes reading measurements easier

Hold function keeps measurements on the large display while you record them

Dual "OFF" at both ends of the range, so you won't have to keep going all the way back to the other end of the dial to shut it off
WHAT MAKES TRMS ADM62 PROFESSIONAL?
Can measure DC/AC current in μA mode, besides in A and mA mode

Temperature, AC/DC voltage, diode, V-alert, Ohm and continuity test

TRMS measurement is less error than the traditional average method when measuring non-sinusoidal signals
FEATURES
[Dual Side Probe Holder Design]: Dual side probe holder design, the probe can be fixed in the holder for single-hand measurement, or the probe tip is hidden in the holder to prevent being hurt, safe to carry.

[Dual "OFF" Design]: Dual "OFF" at both side, both hands can easily switch the meter off, choose it according to your need.

[2 Fuses]: 2 fused fuses (10A Max, 250mA Max) design, double safety protection.

[Multi-functions]: This true RMS auto-ranging multimeter can measure diode, continuity, V-alert (non-contact AC voltage), AC/ DC current, AC/DC voltage, etc.

[Double Insulation Probe]: The probe is double insulated and 10A maximum, which conforms to the CAT III 600V safety standard.
SPECIFICATIONS
Style: ADM62

Item Model Number: Digital TRMS Multimeter

Batteries: 2 AAA batteries required.

Size: Pocket Size

Colour: Black

Shape: Oval

Item Package Quantity:   1

Number Of Pieces: 1

Display Style: LCD

Special Features: Digital True RMS Multimeter

Included Components: 1 * Digital Multimeter; 1 * Probes; 1 * User Manual

Batteries Included: No

Batteries Required: Yes

Battery Cell Type:  Alkaline

Display: 2000 counts

DC Current: 200uA/2000uA/20mA/200mA ±(1.0%+5); 10A ±(2.0%+5)

AC Current: 200uA/2000uA/20mA/200mA ±(1.0%+5); 10A ±(3.0%+5)

DC Voltage: 200mV/2V/20V/200V ±(0.5%+2); 600V ±(0.5%+5)

AC Voltage: 2V/20V/200V ±(1.0%+3); 600V ±(1.2%+3)

Resistance: 200Ω/2kΩ/20kΩ/200kΩ/2MΩ ±(0.8%+2); 20MΩ ±(1.0%+2)

V-alert: Light flash and alert beeper sounds if identify AC voltage existence

Diode: Shows positive voltage value of diode approximately

Continuity: If the resistance less 30Ω, the continuity beeper sounds

Power: 1.5V (AAA) * 2 (not included)

Size: 139*83*36mm

Weight: 160g
PACKAGE INCLUDED
1 * Pocket Multimeter

1 * CAT III 600V Test Lead

1 * User Manual
NOTE
The batteries are not included in the package due to Aviation Security Check